Dental Implant Restoration

Woodland, CA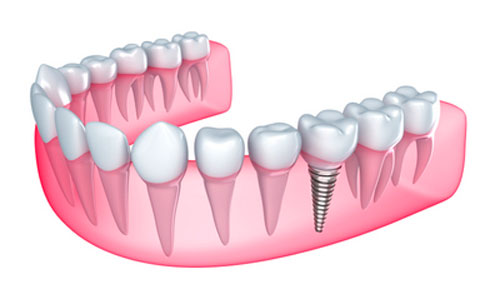 Among the most effective ways of replacing missing teeth is a dental implant procedure. Apart from that, it is found as the best choice that you can get for missing teeth. In the field of dentistry, many specialists at Beautiful Smiles will suggest their patients go for the most effective and functional solution which is a dental implant. Apart from it being the most affordable, it is a long term solution accompanied by so many benefits.


Dental Implant Placement

The dental implant procedure includes an artificial tooth, implant, and abutment. During the implant positioning, there is a surgical procedure carried out to enable them to attach to the jawbone in place of the missing teeth. Securing of the teeth happens when an abutment is attached to the implant. It depends on the intensity of the teeth gap so as to come up with a decision of whether a dental bridge, denture, or crown is used. To find out, you will need several appointments with your dentist.


Benefits of Dental Implants

Dental implants are similar to natural teeth, which makes them favorable. Complete chewing restoration is attained once the dental implant procedure is done. Another benefit is that dental implants last longer than any other dental solution. Another benefit of dental implants is stabilizing the adjacent teeth.


Develop a Treatment Plan

In case you are thinking about a dental implant procedure, you can start by scheduling a consultation and then a dental evaluation. A general dentist, who will deliver the treatment plan, is the right person to talk to in order to gather a team of periodontal specialists. In the case of a periodontal illness, treatment is required before restoration. Also, for any possibility of bone loss, bone grafting is advised for the patient. Note they have to take a look at your jawbone sufficiency to tell whether the implants will fit.

Once you make a decision about dental implant placement, there is no more time to waste. To enhance your lifestyle and make it more comfortable, check out our dental implant FAQ to understand the right type of implant that suits your particular needs.


Choose Dental Implants Today

Dental implants are going to be functional as soon as they are placed in your mouth. Thus, you can begin to eat the foods you have been avoiding when you had missing teeth. That should be after you have healed and recovered from the surgery procedure. This can take several months after the procedure. Be patient with the healing process. After you recuperate, you will enjoy a better and healthier smile for years to come. Also, people will barely differentiate if you still have your natural teeth or if you have dental implants because they both look identical. Finally, if you find yourself asking if you are a candidate for dental Implants, book yourself a consultation today at Beautiful Smiles to get clear answers.